Wing covering tutorial
date: 14th October 2017
I was requested many times to do some kind of covering demo/tutorial so here it is.
I used one of my many scrap wing pieces and covered it with red Solarfilm Lite foil.
The wing was printed with ABS plastic. For PLA you should not work too long on one place and move to the opposite side to let it cool down and avoid deformation.
Temperatures I used in the tutorial work for the materials I used, it might be different for you. Remember to always experiment on some test piece to find out what temperatures work best for your materials.
---
KRAGA Maripi
date: 25th August 2017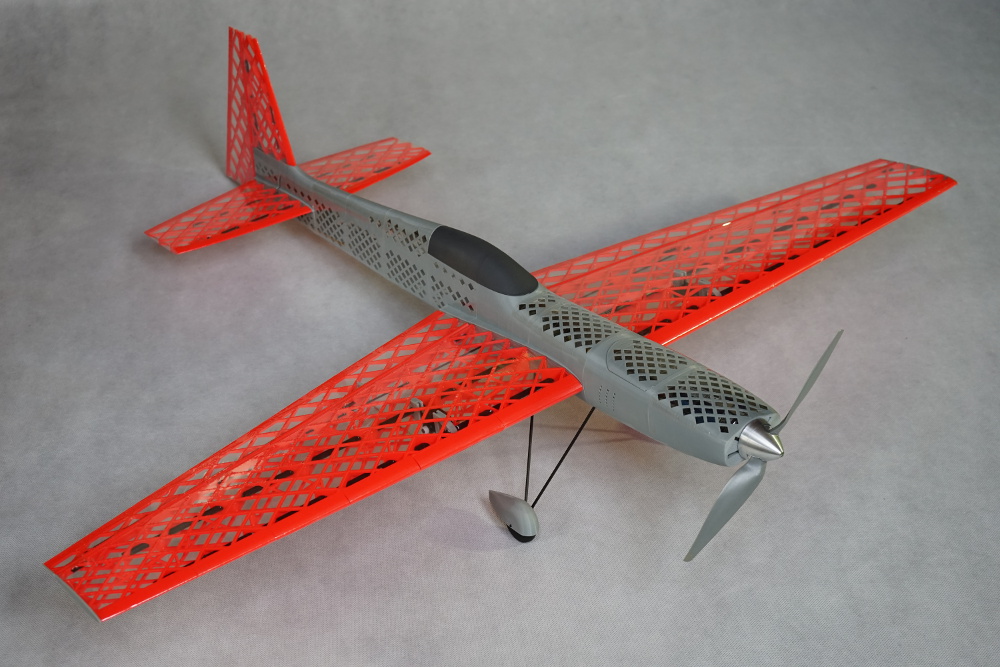 Yes. It is finally done. It took me almost a year to finalize. It gave me fair bit of frustration at times but more importantly great feeling of satisfaction.
One of many things I wanted to learn is flying at least some basic acrobatics. So I pushed myself out of my comfort zone this time not only when it comes to flying but also designing. This was my first acrobat design ever. That is why I asked a very good acrobat pilot Michal Schreiner for help. With his valuable input I created Maripi.
The goal was to create something smaller than Kodo so that it could be printed faster. As always it had to be easy to fly. Capable of acrobatics. Suitable for beginner acrobat pilots like myself. The result is exactly what I wanted to achieve except for one thing - shorter printing time :-). Fuselage design was really demanding this time and took me most of the time. I needed fuselage with big area to support the plane in different maneuvers. That means I had to tackle classic problems like cracking, warping and weight again. I learned a lot during this design and I'm happy with flight characteristics of this plane. Hopefully you will like it too.
I implemented also couple improvements in wing design. Wing is now lighter relative to the design on Kodo. But more important change is new leading edge design. Thanks to that the airfoil shape is more exact. The airflow is laminar on bigger part of the wing. You can find more about Maripi here.
And yes, it does have wing tip covers included ;-).
Happy flying
---
Snow landing tutorial
date: 24th April 2017
I'm getting millions of requests every day asking me: "Tomas, please tell me how should I land my Kodo in snow ?" So instead of writing million replies, I decided to make this short tutorial :-).
To be a bit more serious here, last Friday we got some April snow. I decided to use that and the video is documenting my hike. The weather was very nice, but the wind was blowing madly especially on the top where I was initially planning to fly.
I found small area protected by the trees and decided to give it a chance. As expected, the wind was not only too strong, but also very turbulent. The rest you can see in the video.
Enjoy
---
Changes in CG settings & new page for sharing print settings
date: 15th March 2017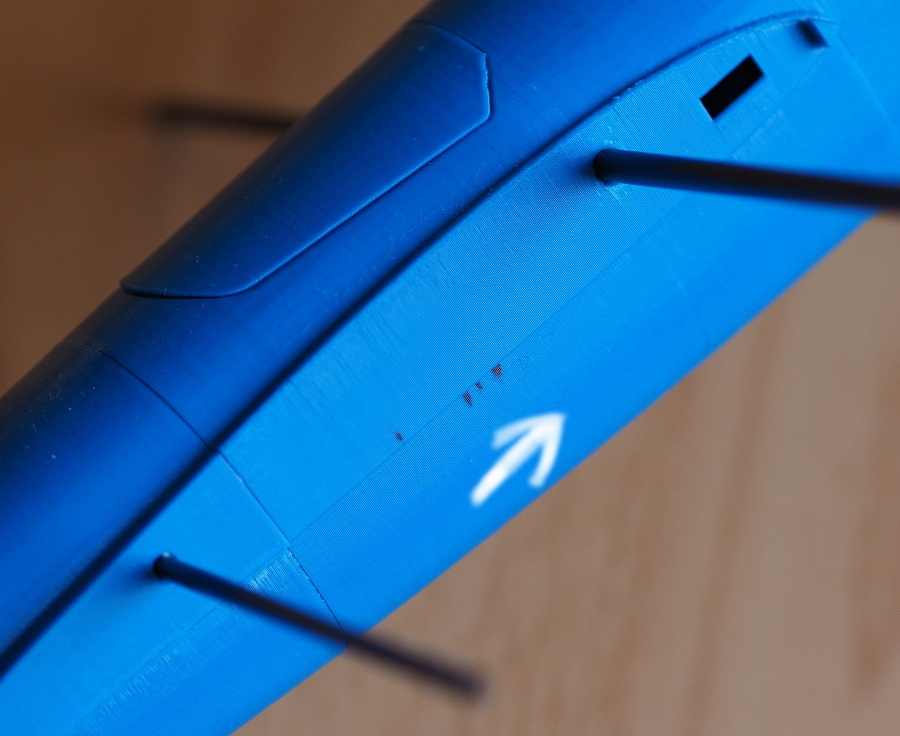 After some initial feedback I revised CG setting and moved it now to 61mm from wing leading edge for maiden flight.
As it turned out, I'm flying on 62mm, so previously advised 63mm was quite dangerous for first flight.
Don't worry, no Kodo was harmed due to this inaccuracy :-) .
I also added some general settings to the build guide as a starting point for maiden flight.
There is a new page where you can you can check what printing settings are successfully used by other users. Hopefully more of you will share your settings and it will be more and more helpful.
I got couple of questions related to the tail linkage system. I recommend two options, either flexible push rods (the white ones on the picture) or home made ones from 2mm carbon tube.
Flexible push rods are less time consuming to do. Carbon ones offer better movement control and responsive feel when flying.
Updated build guide is available for download in version 1.4


---
Was it santa?
date: 23rd Dec 2016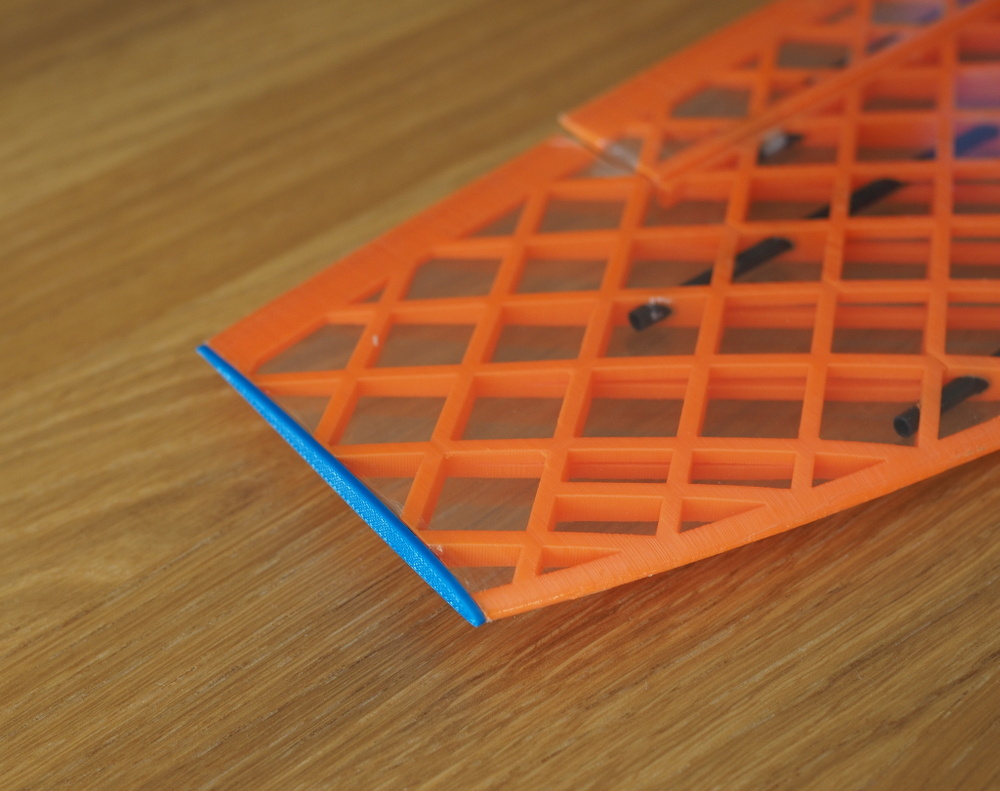 As I was flying today with Kodo I suddenly heard some strange sound. It was something like jingle bells. I thought to myself "maybe something with motor" so I landed immediatelly and checked the plane.
The motor was fine but there was something strange on the wing tips, something I'm sure many of you would like to have on your Kodo as well ;-)
One possible explanation might be, that Santa was testing his aircraft near to Kodo's test track, he saw it and wanted to reward it for beeing such a good airplane whole year ;-)
One way or another, wing tip end caps are available for download in version 1.3

Enjoy the Christmas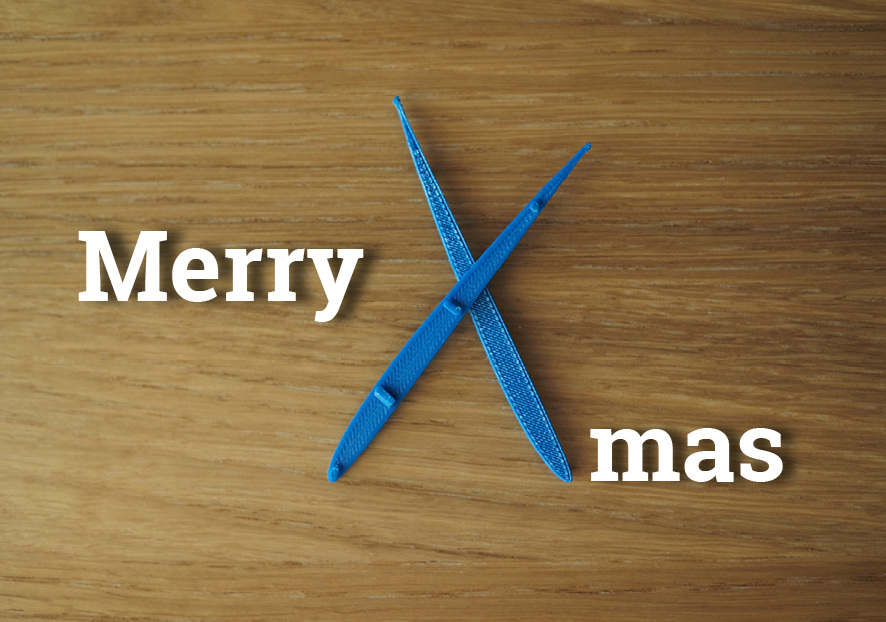 ---
Fuselage servo mount plate improved
date: 16th Oct 2016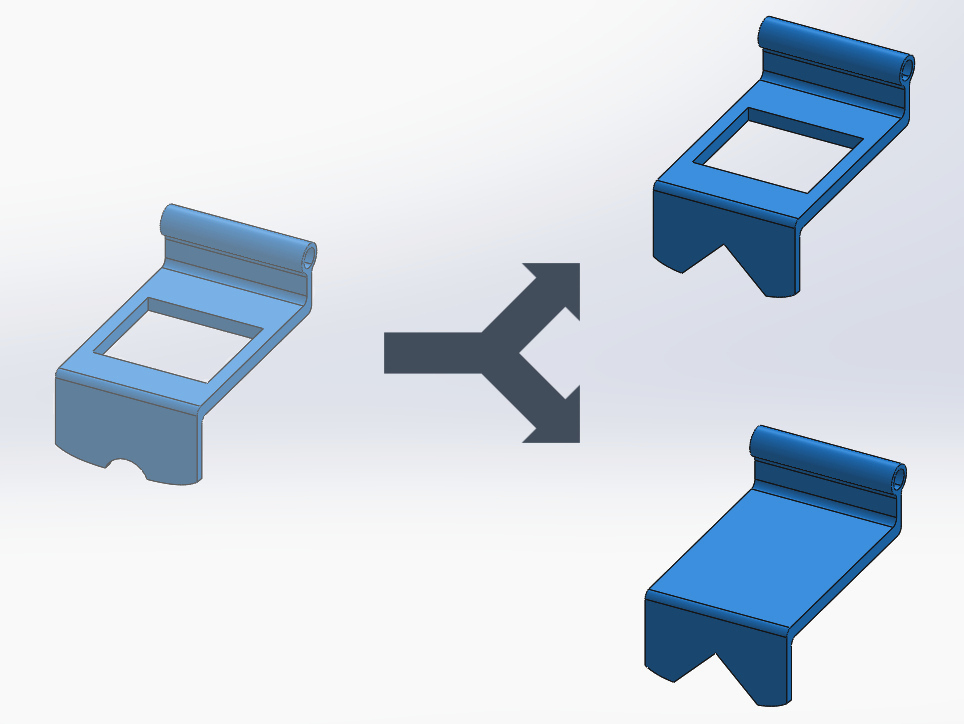 In case you would like to place your receiver further back in the fuselage to save same space in the front, it was hard to lead cables around servo mount plate. Now you can lead the cables under the plate through bigger hole in plate legs.
For those of you, who are using different servo size or placement configuration I added option to print mount the plate without servo cutouts.
(These changes are available for download under version 1.2)
---
Kodo - first serious crash
date: 8th Oct 2016
Recently I was doing some tests with electronics in Kodo's fuselage, trying different kinds of ESC because I had some issues with mine. This moved my CG on the plane so I decided I will do more experiments and I will leave it a little bit more back (67mm from LE). On the way for some shopping with my wife and son I took also Kodo promising only 10 minutes delay. I have to admit I wanted to show off in front of my little son because he is showing great interest in planes lately. Coincidentally due to my fault I wiped out recently all my settings from my transmitter so I was flying with new settings.
After little bit of flying I got into stall and began to fall down in uncontrolled spin. Kodo fall directly 15 meters nose down. Then there was this quite for couple seconds, realizing what just happened.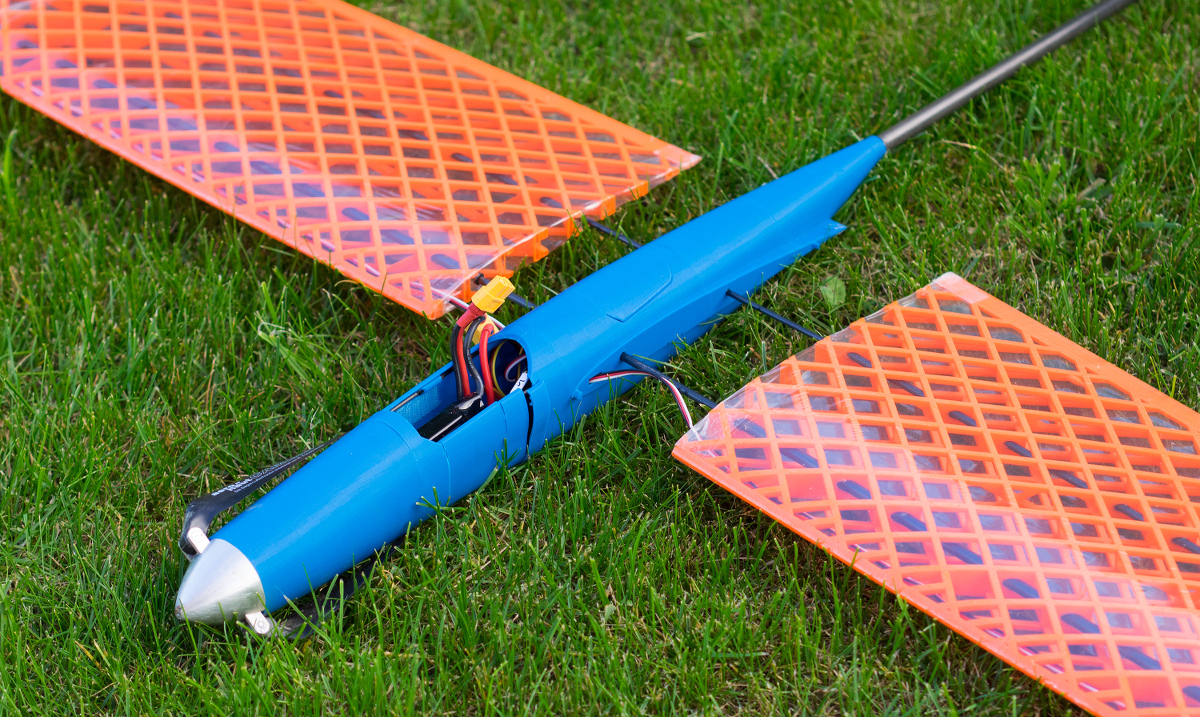 I thought that Kodo will be just a pile of broken plastic and carbon. To my surprise only thing that was broken was front part of the fuselage. Wings were detached from the fuselage (what for sure helped to consume part of the energy) but they were perfectly fine same as the tail. In the end I just need to reprint front part of the fuselage and I can reuse complete middle and back section from original fuselage (actually I'm writing this while my printer is quietly buzzing in next room - printing the parts).
This was in total my third serious crash with a plane build using this kind of technology. First two crashes were with different planes but both of them were quite severe and wings were always perfectly fine after the crash. Even if wing tip was first to touch the ground it was always fuselage which got broken and wings absorbed the energy nicely.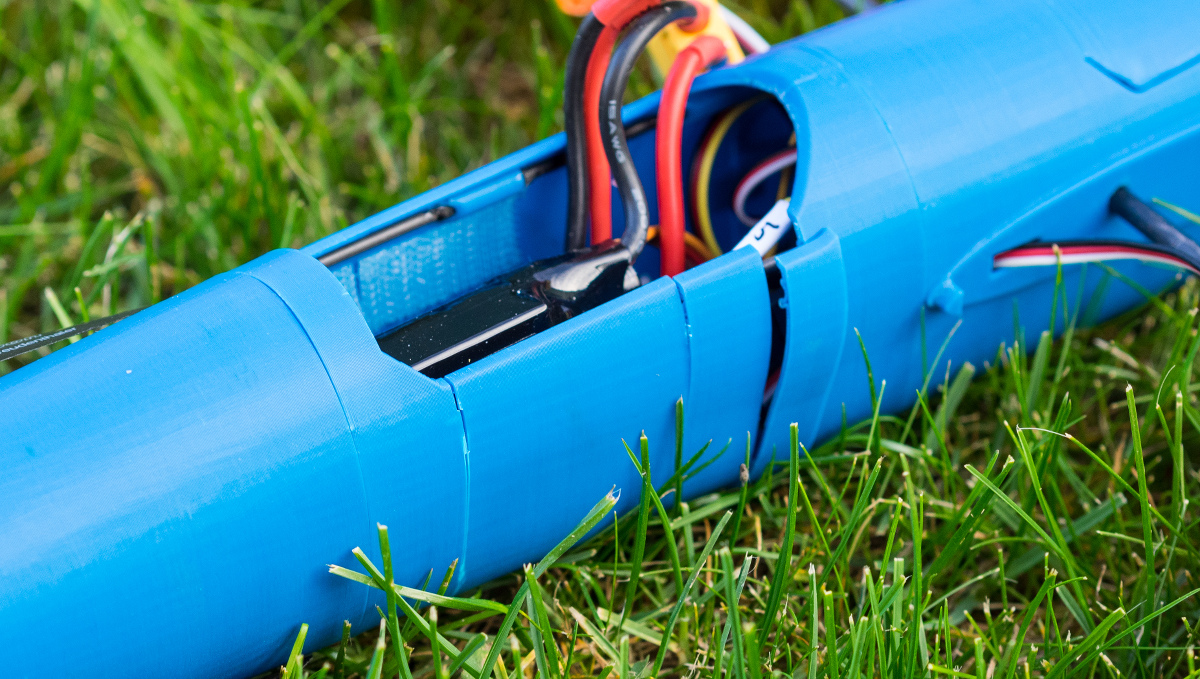 These are the moments when I feel like it was worth to spend so much time designing and trying all kinds of wing structures. Pity that this was the first time my son saw me flying live (he saw me only on youtube before).